Feather Lines; Whiting | Metz | Keough | Ewing | Collins | Darbee | RIR | Indian Necks | CDL | Bugger | Muskie | Variants
Ewing Feather Birds
In 1989 Doug Ewing aquired a line of hackle birds from Joe Keough, Bill's uncle. For 20 years he has worked with these birds to produce some of the finest hackle.
Today, Doug Ewing's line of feather birds produces some of the finest feathers for tying streamer and deceiver patterns.
The barring on these feathers is beautiful, and the feather length and shape is perfect for tying Carrie Stevens patterns.
Lefty developed the deciever pattern and Ewing perfected the feather!


High Quality Hackle at a Great Price!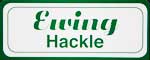 When deciding whether to buy a dry fly cape or saddle there are a few things to first consider. First, what sizes are you planning to tie? With a good rooster cape you can tie sizes 6 to 26. Rooster saddles on the other hand have a very narrow size range, usually just two or three. The feathers are long and narrow and you can easily tie six or seven flies of the same size from just one feather.
Dry flies need good strong tails and dry fly capes have great tailing fibers along the edges of the cape. These are the feathers that would be on the throat of the rooster. They are called spade hackle and have the strongest fibers, feathers needed to protect the throat from the sharp spurs of other roosters.
Ewing Dry Fly Capes - Grade #1
$45.00

Premium Dry Fly Hackle

This is Ewing's dry fly line. For the most part he has concentrated on the core colors; grizzly, white, and brown. The duns are dyed over white.

The barring on his grizzly line is clean and balanced.

The feather quality is perfect for those wanting to tye a wide range of sizes.

The majority of the feathers on these capes range from 14 to 16's. You will also find plenty of 10's and 12's, however, you'll find that there is a bit of webbing in these sizes.

Dry Fly Cape - $45.00


To check out, click the "view cart" button
Ewing Premium Streamer Capes
$45.00

Perfect Barring - Perfect Shape!

Here is where Doug has excelled. Over time he has selected for genetic traits to produced a perfect streamer feather.

The ideal balance of black and white, combined with the right amount of web and feather shape, make this a favorite for wings on Carrie Stevens streamer patterns.

At the moment, these full capes are only available in grizzly and white. If you're looking for other colors, check out Ewings streamer packs listed below.

Streamer Cape - $45.00
Ewing Saddle Patches
$25.00

Streamer / Schlappen Feathers

These feather patches are the lower part of the saddle, the widest feathers on the saddle, right before the tail feathers

As you can see in the picture, these feathers are very webby, however, the stems are not as stiff as those found on a cape feather.

And again, what jumps out at you is the clearity and uniformity of the barring.

Saddle Patches - $25.00


To check out, click the "view cart" button
Ewing Deciever Patches
$17.50

The perfect Streamer Feather

For those of you who are looking for bright colors for streamer patterns, these are perfect.

Ewing Streamer Packs are patches cut from the lower section of their streamer capes. Each pack contains 50 plus feathers. And at this great price, you can get a variety of colors!

If there are any other colors you are looking for, please give me a call.

Deciever Patches - $17.50
Ewing Woolly Bugger Packs
$7.50

Soft Webby Rooster Saddle

Ewing Woolly Bugger Packets are feather patches cut from the sides of his rooster saddles.

The feathers on these saddle patches are fairly soft with webbing down the center of the feather. This makes them a perfect bugger feather, giving your fly movement and life in the water.

If there are other colors you are looking for, please call me.

Buggar Packs - $7.50
Ewing Rooster Saddles

$45.00

Yet another genetic breakthrough - also available in 12 dyed colors.

Ewing Rooster Full Saddles - $45.00


To check out, click the "view cart" button
Ewing Rooster Cape
$45.00

Lavander Dun?

I have no idea what color this is, but one thing's for sure, when people see it at the shows, it sells.

None of the other hackle growers stock this color, Ewing is the only one.

I'm sorry to say that I have no idea what pattern people are using this unique color for.

As you can see in the picture, the feathers are webby throughout, the ones on the lower half measuring over 6 inches.

Lavander Dun Cape - $35.00
Soft Hackle Hen Feathers
Ewing Hen Necks

$15.00

Soft Hackle Hen Necks

The feathers on these Ewing Hen Necks and Saddles are soft and webby. The smaller feathers on the cape are a favorite for mayfly wings.

You'll find a wide range of sizes on these hen capes to meet the needs of most patterns, while feathers on the saddles are larger with rounder edges.

If you're looking for other colors, please give me a call.

Ewing Hen Neck - $15.00


To check out, click the "view cart" button
Free shipping on every feather!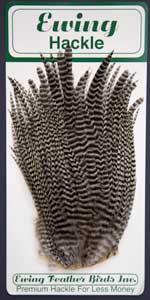 Ewing Saddle Patches


Ewing Rooster Capes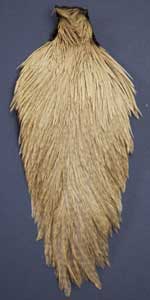 grey olive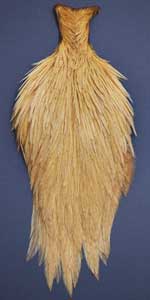 tan olive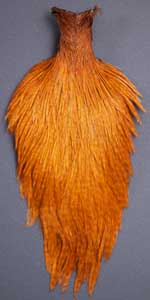 ginger
Dry Fly Patterns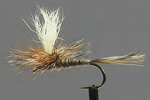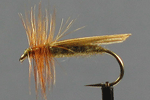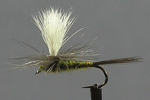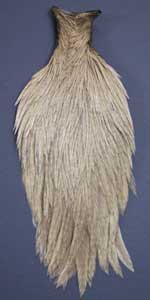 Blue Dun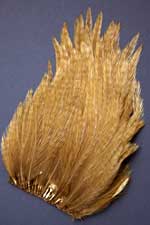 Olive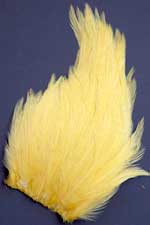 Golden
Fly Patterns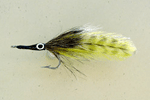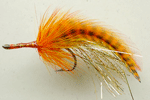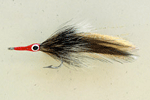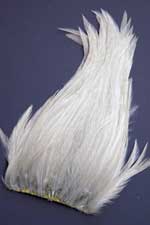 Streamer Packs - perfect for tying Grey Ghosts!
Bugger Hackle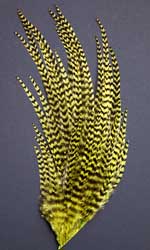 Chartruese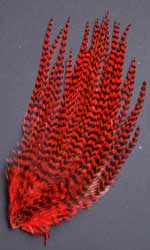 Red Grizzly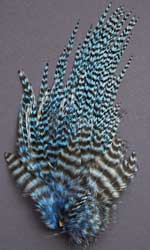 silver doctor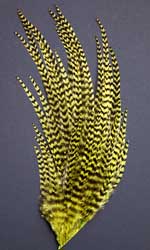 Deciever Patches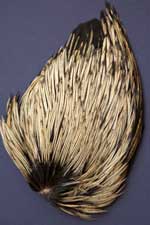 Golden Badger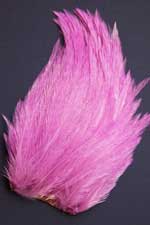 Lavender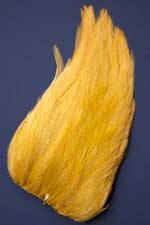 Golden
Hen Necks
Red Grizzly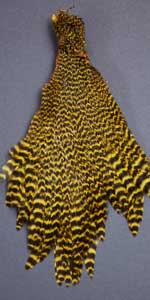 Blue Grizzly