Dry Fly | Soft Hackle | Streamer Capes | Saltwater & Steelhead Hackle | Flatwing Fly & Bugger | Schlappen | Coq de Leon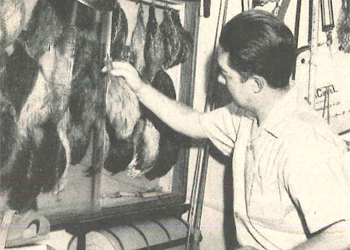 "Darbee Duns"
Harry Darbee was quoted as saying "When money really got tight, I began commercial fly tying because fishing seemd to be the only business that wasn't too affected by the depression".
And in turn, he went on to develop a line of feathers that changed fly tying. Harry used the "shot gun" approach to breeding. He threw a dun rooster in with brown hens and waited to see what came out.
His aim was for the perfect dunn, and as you can see in the pictures, the match is perfect. A tightly held small flock has been preseved by one breeder..... take a look!
Harry Darbee processing capes in 1955
A bit of history
When deciding whether to buy a dry fly cape or saddle there are a few things to first consider. First, what sizes are you planning to tie? With a good rooster cape you can tie sizes 6 to 26. Rooster saddles on the other hand have a very narrow size range, usually just two or three. The feathers are long and narrow and you can easily tie six or seven flies of the same size from just one feather.
Dry flies need good strong tails and dry fly capes have great tailing fibers along the edges of the cape. These are the feathers that would be on the throat of the rooster. They are called spade hackle and have the strongest fibers, feathers needed to protect the throat from the sharp spurs of other roosters.
Rooster Capes

$35Every color of dunn you can imagine and then some!


duns
dun variants
grizzly
browns
badger
other




Rooster Saddles

$75Saddle feathers on this line are not as dry as the capes. The tips are dry but the reat of the feather has web in it. They are great for bugger patterns.


duns
dun variants
grizzly
browns
badger
other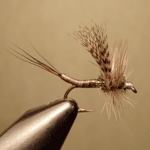 Quill Gordon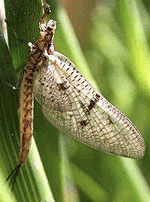 Quill Gordon mayfly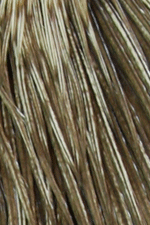 Brown Dunn Cape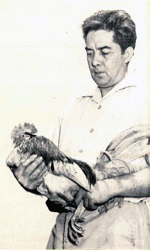 Darbee and his rooster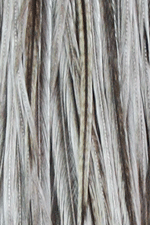 Grey Dunn Cape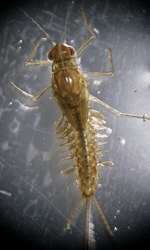 Mayfly Larva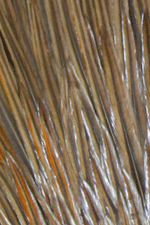 Rusty Dunn